Car Dealers: Leads, leads, and more leads! This is usually part of the conversation with dealership decision-makers which I completely check out. Instead, I go to my happy place, like that scene in Fight Club where Edward Norton's charter is experiencing a very painful chemical burn and retreats to his "cave" in an attempt to escape the pain. Conversations and strategies built on leads are my equivalents to the Car Dealerst Fight Club scene because they are, in fact, the laziest way we measure marketing ROI in this industry. Why? Well, according to Google, leads account for less than 30 percent of all the activity that goes to your website in any given month. The majority of buyers will visit your dealership and never submit their information. And really, why would they? They know exactly what will happen if they do. 
I have never worked with a dealership
where I saw figures like 60, 70, or 80 percent of total sales attributed to leads, yet we continue to be addicted to leads as if this is what is required to sell more cars. And what's worse is that we neglect what ACTUALLY works: EXPERIENCE! Digital experience = in-person visits, and in-person experience = word-of-mouth advertising, which is the best form of marketing there is. That being said, leads do have some relevance, but if we are trying to get more out leads, then we need to stop looking at inbound leads and start focusing on leads generated from our internal operation. We often forget that we have the most powerful audience right at our fingertips—right there in our service drives and our DMS!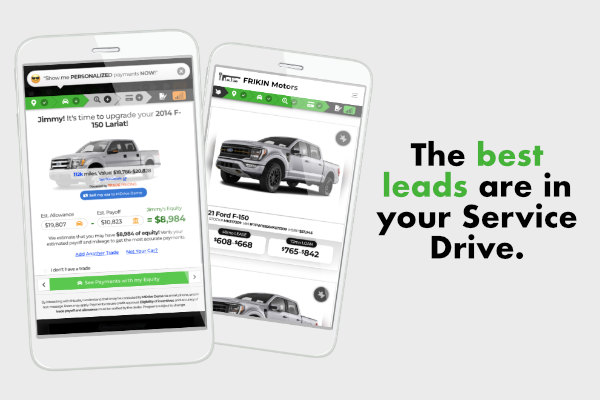 All too often, we spend all this effort and resources focusing on generating leads by placing our inventory EVERYWHERE. At the same time, we don't think to extract leads from our service activity and from customers that have already said yes to us and continue to do so day in and day out by servicing their vehicles with us twice a year, every year! Service to sale and equity mining are the two absolute best places to generate leads from, and yet we make little to no effort when it comes to this very important segment. In fact, at most dealerships, this is simply neglected altogether. Fortunately, there is now a viable solution that offers a simple way for any Car Dealers to turn this on and start generating some incredible results.
We had the pleasure of having them on our podcast recently for our season 8 closer. In the episode, Tom Harsha, one of the founders, peels back the curtain and talks about all the ways that this solution is designed to level up the game for Car Dealers everywhere. Before I give you more specifics on the company, let me begin by telling you from my firsthand experience how amazing this product truly is. 
If you've been following me for some time, then you know that one of the advantages we provide dealers across the country is our partnership with vendors that we have thoroughly vetted and can guarantee will add benefits to their dealership's operation. We pride ourselves on finding solutions that we know ACTUALLY work. I met the folks from FRIKINtech about a year and a half ago at a digital dealer in Las Vegas, and I was offered a free trial to test out their solution with some of the stores I work with. Sadly, it took me over a year to take them up on their offer, and I wish I wouldn't have waited so long! This product is FRIKIN awesome. 
From a value proposition standpoint, equity is the lowest possible hanging fruit at any car dealership today. Even better than having the highest-scarcity vehicle at the lowest price, positive equity—when used correctly—is a guaranteed deal! For one, you know the customer, and the customer knows you; secondly, you already have the financial history of the customer; and thirdly, you have an irresistible offer that they almost certainly can't pass up. "How would you like to get into a newer, better vehicle than the one you currently have for a lower payment?" I mean, come on—who is going to refuse that?!
Service is also a better place to start than Autotrader
Cars.com, and so on. When it comes to leads, you already have tens, if not hundreds, of those going in and out of your stores every single week—heck, in some stores, maybe even every day! The problem I've seen with these strategies in many dealers—other than flat-out neglect—is that for some reason this has become a BDC task, and as such, it will never work. The stores that I've worked with in the past that truly do this, and do it effectively, have made these two vital segments an entire department on their own with multiple people working in unison at the dealership level, which can be very hard to accomplish.  
To solve this, FRIKINtech has created a system that combines a CRM's equity mining for software applications with automation in the form of email and text messages, which puts these efforts on autopilot for dealers using their products. Both Tom and Alex have prior experience building CRMs, and as such, they understand exactly where the deficiencies are and have leveraged that to turn them into a powerful weapon. 
I educate dealer clients often about the value of email marketing, as it is currently the most cost-effective way to communicate with customers—provided you give them a reason to engage! A very well-personalized email that offers value is as good as gold for car dealerships. FRIKINtech has taken that seriously, and their users currently enjoy a 58% open rate for email communication! Can you believe that? The reason they can tout these incredible numbers is the perfect combination of the right data and effective personalization. The other element of automation they provide is text messages. They have figured out the text message game, and we all know how critically important that is in our current digital landscape where people are attached to their mobile devices. Think about it—who doesn't read or at least open their texts on a daily basis? 
Now, I mentioned Tom's and Alex's backgrounds because if you ever log on to their platform, you will immediately understand how vital their experience has been in architecting their product and how it translates into the amount of data being collected on each and every opportunity that then goes into the CRM. Truly, it is INSANE! It is so comprehensive that there's simply no chance you won't gain value from it. The backend tool of their product is so smooth, it almost makes me want to make that the SRP experience on our clients' websites. Finally, their Cherry Leads system is an homage to their many years of firsthand experience on the retail side of the business. 
I genuinely LOVE this product
So much so that I think every Car Dealers needs to try it out! Here is the best part: You can do so absolutely free of charge for 30 days by clicking this link here. Plus, if you sign up with them through this channel, you will be supporting the podcast! This greatly helps our efforts to learn as much as possible from cutting-edge vendors in the space and partner with those that truly help Car Dealers like you move the needle! Like Edward Norton in Fight Club, I encourage you to consider the words of Tyler Durden: "It's only when we've lost everything that we are free to do anything." Start utilizing your leads in a way that helps you move the needle for your operation.